Treasure Investments Corporation Set to Begin Casting Sculptures in Precious Metals.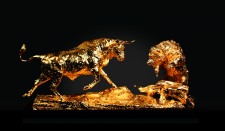 LAKE OSWEGO, Oregon, October 4, 2017 (Newswire.com) - Mark Russo, CEO of Treasure Investments Corporation, will begin casting its sculpture images in .999 fine silver and .9999 fine gold.
TIC will be participating in numerous investment and major trade conferences in 2018 including the New Orleans Investment Conference, Hard Asset Investments and the World Money Show to name a few.
Russo, no stranger to selling pure silver sculptures, sold over 100,000 ounces of silver pieces in just a few years after attending a few select conferences including the San Francisco Hard Asset Investment Conference where in just a few hours sold 22 sculptures of a 1000 ounce .999 pure silver bull and bear piece by Lorenzo Ghiglieri. "When at the right venue, with the right product in a precious metal, especially in pure silver people really get excited. We sold over $1 million in silver sculptures in a few hours showing our new 1000 ounce bull and bear piece entitled the 'New Powerful Exchange,'" says Russo.
Treasure Investments will begin casting its landmark image of the bull and bear and American Patriot, an eagle perched atop Article One of the U.S. Constitution, in both pure silver and solid gold. In addition to the bull and bear and eagle image, TIC plans to cast many of its newest pieces in precious metals, including the new just released piece "Stage Coach Gold," an 1860s Wells Fargo stagecoach with a six-horse team.
Treasure Investments provides high-end limited-edition bronze sculptures for charity fundraising events as well as creating and distributing its world-class images to fine art galleries in the United States. The subject matter of these pieces ranges from wildlife themes to historical, cultural, western, and biblical.
Treasure Investments Corporation has amassed a master mold collection of more than 700 original works of art including many works from world-famous artists, Lorenzo Ghiglieri and Laran Ghiglieri, as well as master molds that originated from the Vatican and the Villa Borghese Museum in Rome. Bernini and Michelangelo are also among the artists that are included in the mold collection.
The company has a strong focus on philanthropy. One of their main business divisions is their charity auction program, which provides fine art pieces for fundraising events and auctions. The unique business model sets the company apart from the rest. Russo created this innovative model in 1998 by placing valuable bronze castings into gala charity fundraising events. The first piece sold for $63,000. This model has subsequently created tens of millions of dollars in revenue for the nonprofits.
"Treasure Investments Corp is now positioned to be the sole provider of high-end bronze sculptures for nonprofit auctions throughout the United States," says Russo. "With more than 600,000 live charity auctions per year, and growing daily, the ability for Treasure Investments Corp to scale its auction model is beyond exciting for just one of its profit centers."
Treasure Investments Corporation has had a third party independently appraise its mold collection at more than $900 million. This asset of master molds took more than 35 years to create and is truly irreplaceable. Currently, Treasure Investments Corp has no debt and has successfully completed its first round of equity finance of $1 million.
To learn more about the company and its work with nonprofits, visit Fineart1.com.
About Treasure Investments Corp
Treasure Investments Corp has a diverse business platform, creating and providing fine art in original sculptures from small desktop images and collectibles to larger than life heroic monuments. The company's master mold collection contains hundreds of original molds from world-famous artists in the United States and Europe. For more information, visit Fineart1.com.
Source: Treasure Investments Corporation
Share:
---
Categories: Finance, Business Finance, Sculpture, Commercial Art, Charitable Contributions
Tags: art, finance, fine gold, fine silver, fundraisers, Laran Ghiglieri, Lorenzo Ghiglieri, Mark Russo, precious metals, sculptures, Treasure Investments Corporation
---
Treasure Investments Corporation
808 SE Commerce Ave (120)
Battle Ground, WA 98604
United States